Listen to this article
Extra Virgin Olive Oil (EVOO) is without a doubt a multi-functional food item; its complex aromas and flavors make it a versatile part of our gastronomy that few foods, and needless to say fats, can match.
Awareness of how important healthy fats are has become a global issue, recognized as an important part of a good diet. The Mediterranean diet has led this new awareness, having been officially declared anIntangible Cultural Heritage of Humanity by UNESCO .
Nevertheless, it is virtually unknown to most people, and its use should be recommended as a question of public health.
We at ESAO aim to add our grain of sand in bringing the knowledge of this important part of a good diet to every household in the world.
If you produce or sell olive oil or if you are just curious and want to learn more about olive oil you are in the right place. In this post, we'll provide an all-encompassing rundown of everything related with extra virgin olive oil.
High quality Extra Virgin Olive Oil
8 key steps for obtaining top extra virgin olive oil
Olive Oil Sommelier Certification
How is olive oil made?
Extra virgin olive oil is a natural juice of a fruit. In this case, the fruit is the olive.
Extra virgin olive oil is the highest quality, an oil with irreproachable qualities and properties that make it an ideal product for the kitchen and excellent for our health and one of the healthiest fats that exist. It has to come from olives harvested from flight, that have not come into contact with the ground.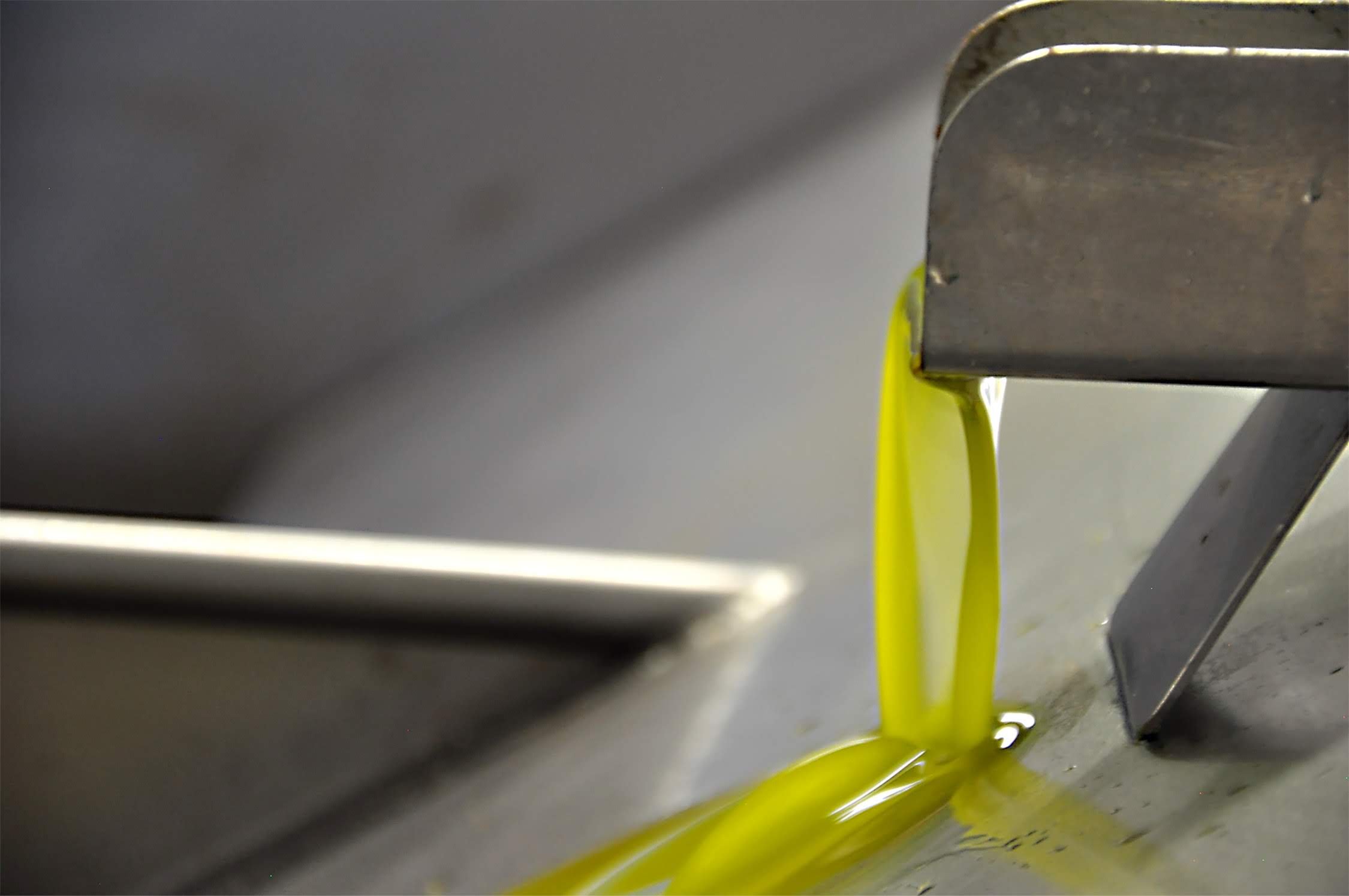 Olive oil is obtained by mechanical means from olives, it is literally olive juice. That's why unlike wine, it does not age better with time, its best consumed fresh and kept away from the sun and high temperatures. When stored properly it can maintain the qualities up to 2 years.
Types of olive oil
There is a wide range of olive oil types in the market, as well as some confusion on this issue. You have probably asked yourself what does virgin olive oil mean? and is it there a difference between a virgin and extra virgin olive oil?
Extra Virgin Olive Oil is the highest quality of olive oil, extracted exclusively by mechanical means with a maximum acidity of 0.8%.
Virgin Olive Oil is

lesser grade than extra virgin oil, with free acidity of up to 2.0%.

Olive Oil (refined) is b

lend of virgin olive oil with refined oils obtained from defective oils (lampante) by chemical or thermal processes with a degree of acidity of 1.5% maximum.

Lampante is

the juice (extracted by mechanical methods) resulting from poor quality olives. It

is not suitable for human consumption without further refining.

Pomace Oil is obtained

by treating olive pomace (the leftover paste after the pressing of olives for virgin olive oils) with solvents or other physical treatments.



High Quality Extra Virgin Olive Oil
Before getting into the specifics of the quality parameters of virgin olive oil, we need to establish what we mean by quality.
The most commonly accepted definition refers to the set of attributes inherent to some item that allows us to characterize and evaluate it relative to other items of the same type. Given that quality is inherently related to the type of product we are dealing with, its parameters of quality depend the product being studied, and how it develops or evolves.
Once we understand this point, we see that quality is something that changes over time. As research and scientific developments bring new knowledge to our understating of oil, what we understand as quality will also develop and progress. Indeed, how we conceive of olive oil quality is something that continues to evolve.
The organization that regulates what norms are applicable to olive oil is the International Olive Council [IOC]. The IOC is the only international organization dedicated to olive oil and table olives. It is a worldwide forum where policies are debated and challenges faced by the olive oil sector are debated. It consists of 17 members, one of which is the European Union, which represents all the countries therein that produce olive oil and table olives.
In virtue of the authority granted to it by international treaty, one of the main goals of the IOC is to consider and apply appropriate means for harmonizing national legislation on olive oil and table olive commerce, thus promoting international commerce as well as detecting the various kinds of fraud and adulteration that ultimately discredit the market and disrupt international market equilibrium.
According to IOC standards, the quality criteria for virgin olive oil is defined by physicochemical and sensorial standards.
Before discussing specific criteria, it is important to note the regulations that define them. Standard (CEE) no 2568/91 of the commission (2) defines the physical and chemical characteristics of olive oil and pomace olive oil, and also establishes the method for evaluating these characteristics. Later, the TO (UE) No 61/2011 standard by the commission on 24 January 2011 modifies (CEE) no 2568/91 regarding the characteristics of olive oil and pomace oil and on how they are analyzed. We include Annex 1 of the EU regulation 61/2011 on the characteristics of olive oil.
Of all the olive oil types, Extra Virgin Olive Oil has the highest quality. The factors that influence the quality of a virgin olive oil can be classified into physical-chemical and sensory factors. It depends on a series on a series of interactions between genetic, environmental and technological factors that influence both the development and maturation of the fruit, as well as the subsequent processing of the oil. (Montedoro et al., 1991)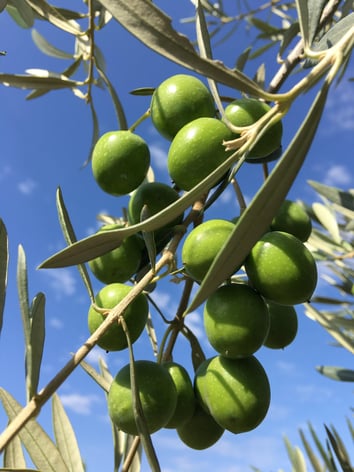 Any variety, being collected at the optimum time, and being handled properly, can produce oils of the extra virgin category.
8 key steps for obtaining top extra virgin olive oil
A quality fruit selected at the right moment in the right way, that reaches the hoppers in optimal conditions and goes through the different phases under an exhaustive control, gathers the controllable characteristics to achieve the final target.
But
this
is
not
an
absolute
science,
as u
nforeseen
variables
will
undoubtedly
occur, and that is when the knowledge and skills of a master miller come into play.
These are the 8 key steps that must be considered in the process of obtaining top extra virgin olive oil:
1. Reception of the olives
2. Grinding
3. Malaxation
4. Paste control
5. Decantering process
6. Vertical centrifuge
7. Filtering
8. Storage
Benefits of Olive Oil
Olive oil is one of the healthiest fats in the world as it is the only oil obtained from a fruit and retains a host of substances, antioxidants and vitamins that give it added nutritional value.
Multiple studies have demonstrated that following a Mediterranean Diet, which is mainly based in the consumption of extra virgin olive oil, is beneficial against the incidence of several major chronic diseases. Predimed and Predimed Plus studies, conducted in Spain with more than 7.000 participants extracted data and showed that approximately 30% of the participants had significant reductions in high cardiovascular risk.
EVOO also has anti-inflammatory and antioxidant properties thanks to its components such as oleocanthal, a naturally occuring anti-inflammatory agent in virgin olive oil.
Mediterranean diet
Olive trees originated as a wild plant in the mediterranean basin area and has been fundamental for many civilizations. Ancient greeks took its tree leaves as signs of peace and wisdom. The roman empire expanded the tree everywhere they conquered new territory and arabs perfected the olive oil extraction methods.
Nowadays, the Mediterranean Diet is synonymous with wellness and health in part thanks to the consumption of olive oil and its health benefits.
It is no coincidence the top 5 worlds olive oil producers are Mediterranean basin countries: being Spain (with more than half of the total production), followed by Italy, Greece, Tunisia and Turkey.
Olive Oil Tasters
Now that we have seen how is olive oil is made and the different types of olive oil it is time to look at the method and procedures to guarantee the authenticity and quality of olive oil: testing.
The International Olive Council (IOC) has established the regulations for olive oil testing as two method system: a physico-chemical test and a sensorial analysis.
Chemical tests are done in the laboratories where olive oil is analyzed to look for its chemical compositions and the sensorial analysis is performed by a qualified testing panel formed by trained Olive Oil Sommeliers that look into the organoleptic senses in olive oil, mainly smell and flavour.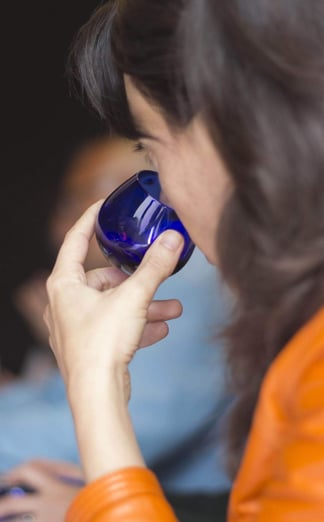 ESAO student during olive oil tasting
The legally required physico-chemical parameters for the classification of virgin olive oil are:
Acidity
Peroxide Values
K232
K270
Waxes
Alkyl Esters
Delta K
Acidity
This test shows the quantity or percentage of free fatty acids in an oil, expressed in oleic acid (%).
Fat that is biologically synthesized is neutral, i.e. the oil in a healthy olive that is still on the tree has 0% free acidity.
We start from the assumption that in the oil of an unpicked olive, nearly 100% of the fatty acids are still "united", esterified, primarily as triglycerides. As the olive ripens on the tree, the action of certain enzymes can cause these unions to break, causing esters, which bring out a slight presence of free fatty acids, which means there will be a slight increase in acidity.
A low degree of acidity corresponds to high quality oil; values close to 0.1 indicate that the olive is in perfect condition and that the fruit has been handled correctly.
The current standard, regulation (CE) Nº 61/2011 states that the degree of acidity for Extra Virgin Olive Oil must be equal to or less than 0.8º
Peroxide Values
This test determines the state of primary oxidation in an oil before it can be noted as a rancid smell or taste.
Oxidation in a virgin olive oil comes from the incorporation of oxygen into the unsaturated fatty acids.
K232
As the process of oxidation has several stages, it is necessary to measure it over time. We have seen that one indicator of primary oxidation is hydroperoxide.
The K232 test indicates the degree of primary oxidation given that it absorbs ultraviolet light at a distance of 232 nanometers.
K270
The K270 test, like the K232 test, indicates oxidation, but at a different distance. In this case the distance is greater.
Waxes.
Waxes are natural compounds that are found mainly in the olive peel and are typically extracted in very energy-intense conditions.
Pomace oil obtained by extraction also contains a high degree of wax. So the test for wax is an indicator that an oil has been mixed with pomace oil.
Alkyl esters
Alkyl esters are only regulated for extra virgin olive oil. The test for methyl esters is eliminated, testing only for fatty acid ethyl esters.
Ethyl esters are also a way to detect if an extra virgin olive oil has been mixed with deodorized olive oil.
Delta K
Is used mainly as a test for purity, i.e. to detect oils that have been adulterated with refined oil.
Olive Oil Sommelier Certification
Becoming a professional olive oil taster requires education and training. It is important for olive oil aficionados and gastronomy lovers but specially important if you are working in the olive oil sector. Entrepreneurs investing or planning to invest and employees that want to increase the value of their business have to be highly knowledgeable on olive oil.
Proper training makes you able to know first hand the quality of olive oils you are working with and knowing how you can improve quality in the olive oil elaboration process.
During an olive oil sommelier training the principal aims of the training stage are:
to become familiar with the tasters with the multiple olfactory-gustatory-tactile variations found in virgin olive oils;
to become familiar with the tasters with the specific sensory methodology;
to improve individual skills in recognizing, identifying and quantifying the sensory attributes
to improve sensitivity and retention in regards to the various attributes considered, in order to obtain precise and consistent assessments.
The practical utility of training period is considered very important and even essential if repeatable, reproducible sensory data are to be obtained.
For this reason, the training phase should be carried out with meticulous care and attention.
The training should be carried out in accordance with a program well designed for the needs of the trainees. The program of training should involve the most important procedures for the training of the tasters and should consist of a theoretical and a practical component. Α theoretical background of tasters on the sensory analysis and generally on olive oil is a valuable tool for the correct application of the sensory method.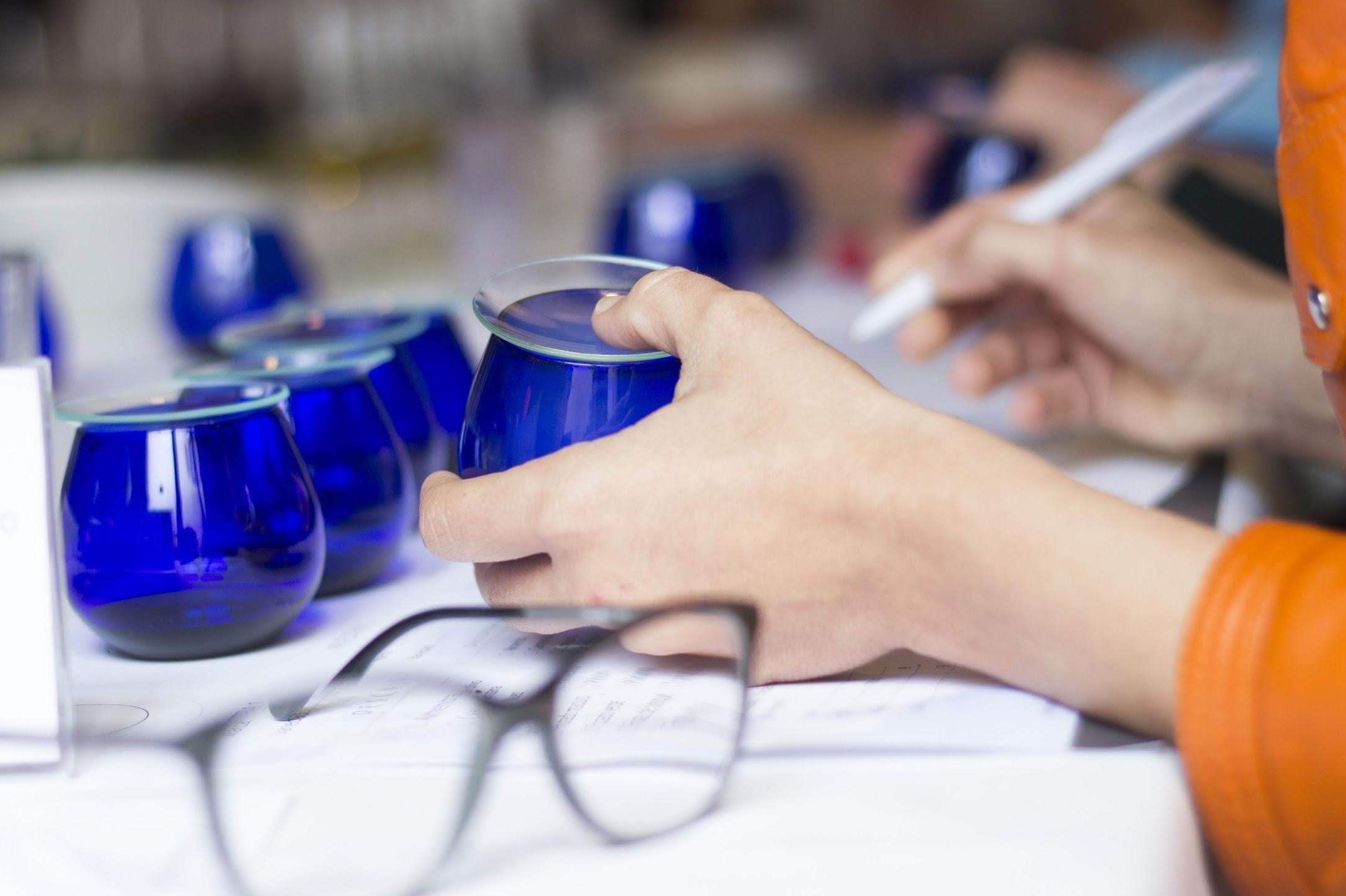 ESAO Olive Oil Sommelier student
---
Closing
Having an Olive Oil Sommelier Certification provides a deep understanding of the whole olive oil value chain, knowing how to taste olive oils, identifying positive and negative attributes, and being able to classify olive oil samples. If you want to keep learning about olive oil you can download our free pdf "Your first step in the road to olive oil" and keep diving into our recent posts for more olive oil content.