Listen to this article
One of the ESAO's training courses that has accompanied the School since its inception has been the course on Exportation and Marketing of Virgin Olive Oil (only available in spanish).
The professionalization of the olive sector is one of the goals that all agents have in mind, and that over the years has been recognized through the quality of extra virgin olive oils.
The consumption of olive oil has increased in the period between 1990/91 to 2018/19 by 91.1%. This percentage speaks for itself of the evolution that the introduction of olive oil has had in all international markets. These are the latest data collected by the IOC for the 2019/20 campaign pointing to an increase of 5.8%, leaving consumption at 3,234,000t. Similarly, an increase in olive oil consumption is analyzed, with an increase of 3.4% in the European countries that are members of the IOC, and there is also an increase of 0.7% for all European countries.

The rest of the non-European IOC member countries increased as a whole by 9.8%. In the rest of the non-IOC member countries, consumption will be around an 11.4% increase compared to the previous season.
Table showing the consumption of olive oil in the world and its evolution.
This progressive increase in the consumption of olive oil in the world, is in turn reinforcing the verification of an increase in global interest in the consumption of healthier products, including fats.

Since the beginning of their training, olive companies have shown special interest in the export of their products and the increase in the value they can obtain from the sale of the virgin olive oils they produce.

On the other hand, we note an increase in the number of marketers, who, seeing opportunities in the sale of olive oil, show interest in knowing suppliers, olive oil brands that from one category or another can satisfy their demand. The figure of the small distributor is likewise an agent with a growing role in the export of olive oil.

We can affirm that olive oil is introduced in practically all the countries of the world, however, in certain markets as it is a novel product, its consumption is residual and in small quantities, so the small distributor is one of those in charge of gradually introduce the product. This is especially the case in non-producing countries.

If you are exporting olive oil or if you are evaluating the commercialization of olive oil, it is important that you obtain training so that this training helps you make decisions about knowledge.
When the ESAO Export and Commercialization of Virgin Olive Oil Course was developed, it was clear to us that the subjects to be given had to cover all the topics related to the success in the sale of olive oil. We established the subjects that would be offered to the student and after that, the suitable professionals were designated for each subject. ESAO teachers are always active professionals, with recognized experience and trajectory. The subjects they deal with are in line with the idiosyncrasies of the reality that surrounds us at all times, and that is why the one who is an active professional we consider an incalculable value.

We are going to see part of the subjects that are covered in the course and that will be tools of great help in your path in exporting olive oil.
The commercialization of large accounts.
Marketing of outstanding or high-end extra virgin olive oils
The commercialization of large accounts
Regardless of whether we are small, medium or large producers, we have to be aware of what the large accounts in olive oil are and what they mean.

The first thing you should know is what large accounts are and what they mean for oil companies, in order to assess this part of the course content. In general, large accounts are those clients that, being the most important of the company, are also a potential long-term investment. Therefore, they are those that must provide us with factors such as:
Volume and scalability
Cost effectiveness
Product diversification
Market access
Innovation adoption capacity
The singularities of the different olive oil marketing lines will be described and explained in In this large accounts module. We break down the content that is worked on, given the great importance it has in the marketing of olive oil.
Introduction

What are Large Accounts and their importance in trading companies
Importance of the G.C in the national market of Extra Virgin Olive Oil, as well as its relationship of the Large Accounts with the export,

Business Differences

Differences between the conventional market and the G.C.
Features that make them different

Some positioning and sales data of the large accounts
List of Large Accounts and sales and business evolution
Characteristics of the Big Account seller
Consumer valuation of each type of business of G.C. and current market trend
Differences between the different types of Large Accounts business

Hypermarkets
Supermarket chains
Discount
Purchasing Centers

Difficulties and mistakes in establishing a business relationship
The madness of the oil price
Tips for building and maintaining a long-lasting relationship
Contribution of data from G. Accounts, as well as territories of influence

Hypermarkets: Data and own characteristics
Supermarket Chains: Data, business areas, and their own characteristics
Selling in a hypermarket is not the same as selling in a supermarket or selling at a discount than working directly with a purchasing center.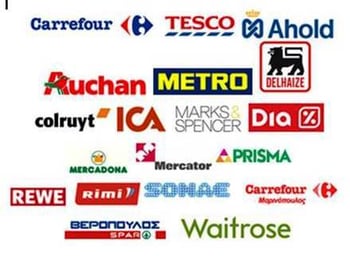 Logos of national and international supermarkets
Managing the large accounts of a company requires methodology and, above all, the exclusive dedication of a person who provides professionalism and experience in commercial action and negotiation at a high level.

The characteristics and how to deal with each person responsible for purchasing the different accounts will be seen, and above all what are the advantages and disadvantages of working with each one of them.

This content will help you export olive oil with greater guarantee and above all it will help you make the most important decisions in your work on exportation and marketing.
The Olive Oil Markets
The chapter on the olive oil markets is a point that will help you decide or have more knowledge about the market in which you want to export or market an olive oil. In many cases there are questions in exporting, which do not have a conclusive answer, since it will depend on factors such as: which consumer we are going to, or specifically to which country we want to export.

You have to know that selling in a Muslim country is not the same as selling in Europe, for example. We have to know that not all markets are the same, that not all consumers behave in the same way.

Depending on the gastronomic culture of the country, how open it is to new trends and the level of consumer purchasing power in each country, olive oil has one acceptance or another.
When we want to export olive oil, like any other product, we have to know the legislation in this regard in the country of destination. Trade barriers and tariffs in different countries will also be tools that help us in our export of olive oil. If we talk about consumers, for example, in Japan they do not like large formats, if you have the possibility of carrying several designs in small formats much better.

It is a market that loves the international, with which they will appreciate anything that carries images or symbols that are associated with the exporter's country.

It is a market that is increasingly concerned about health, and therefore they care about their diet, with which they are preparing on many occasions more than we imagine in olive culture.

It is a market that is difficult to enter, but nevertheless has high loyalty after the first purchase. The Japanese need trust, and that trust is gained over time, which means that negotiations are often slow and costly over time.
From the Chinese market we must know that:
Olive oil and pomace oil imports in China have increased by 13.5% during the last campaign.
The olive oil market in China has maintained strong growth during the period from 2014/15 to 2019/20.
This last season reached 55,580t, which is 54.8% more than in the 2014/15 season.
The table shows the evolution of imports during the last 7 seasons, we observe how Spain with an increase of 17.1% compared to the previous season is the main supplier to China.

The imports of olive oil and pomace oil in China have increased by 13.5% during the last campaign. The olive oil market in China has maintained strong growth during the period from 2014/15 to 2019/20. This last season reached 55,580t, which is 54.8% more than in the 2014/15 season.

The table shows the evolution of imports during the last 7 seasons, we observe how Spain with an increase of 17.1% compared to the previous season is the main supplier to China.
Table of the increase in imports of olive oil in China. Source: COI
As we see in the above table, there is an increase in olive oil imports to China and it is also equally interesting to know which categories have a greater volume.
Thus we find:
66.5% of total imports from China have been virgin olive oils
24.6% of China's imports have been olive oils
8.9% of China's imports have been olive-pomace oils
The evolution of virgin olive oil imports presented a positive trend in the last campaign and the imported volume increased by 31.7%.
Table on imports of olive oil to China. COI source.
We must know that there is a population of 1.3 billion people in China, a figure that is similar to that of India. Let us remember, to get an idea, of the figures that we are considering, that in Europe we are 748 million inhabitants.

The per capita income in China is approximately $ 10,000, in India 2,000 and in the US $ 65,000, to frame the figures, remember that in Europe the average per capita income is 30,000 euros.

We must also know how to work with all these basic figures and of course take them into account when studying, knowing and analyzing the olive oil markets.

You will learn from the hand of a great expert in exporting olive oil in China, the idiosyncrasy of this country, two hours of connection recorded with the exporter, they will help you get to know this country closely and in this way you will be able to export with more guarantees.
Marketing of outstanding or high-end extra virgin olive oils
Another point that is worked on and that will help you export olive oil within the AOV export and commercialization course is high-end commercialization since the commercialization of oils of one range or another has very different paths.

Being able to count on the experience of two companies that work with the highest qualities, and seeing how their trajectory has been as well as their beginnings help us avoid mistakes that we would not avoid without that exposure.
The importance of professionalizing the team and betting on creating value are strategies common to the success stories that you will see in the course.
We cannot sustain a business if it is small, settling for our close relatives to "help" us if they are not prepared. Preparing the team with whom I will develop my project or will be related to the commercialization of my olive oil is an unquestionable task.

Knowing the different classifications and the prices of each one of them allow us to analyze our pricing policy. Let's see a table of the prices of origin of virgin olive oil in 2021 in some countries:
Extra Virgin Olive Oil
Spain - The original prices of Spanish olive oil in the week of January 18 to 24, 2021 stood at € 2.52 / kg, which represents an increase of 25.5% compared to the same period of the previous year.

Italy - Prices at Italian origin stand at 4.8 € / kg for the week from 18 to 24 January 2021, which represents an increase of 65.5% compared to the same period of the previous year.

Greece - Prices in Greece in the week of January 18 to 24, 2021 stood at € 2.4 / kg, thus increasing by 17.1% compared to the same period of the previous year.
If we want to create a sustainable business model and make a profit, we cannot be confused with spending time as if it were free time in a hobby.

If we want benefits we have to invest, time and money.

Knowing how companies with similar characteristics to ours have done it are a great learning model.
Within export and marketing training, and directly linked to this point, it is necessary to talk about packaging. Marketing would not be understood without the image of the brand we want to sell.

Vital is the importance of packaging, as well as of the brand image within the olive sector, specifically in marketing.
Image of high-end packaging. Source Ipacklab.
Consumers, we buy brand. On many occasions, over the quality of the product, our purchase decision is based on the aesthetics of a bottle or a box.

There are many brands, many of them with high quality, both in terms of product and packaging. Faced with this panorama, strategies have to be created that value their differential factors, to create and have competitive value in the market, and this involves creating a company and product brand, among other things. Being different is sometimes what will make us stand out in that marked competition that we find ourselves with.

The brand concept has to be understood as a set of attitudes, behaviors and actions that the company and its people have.

This set of attitudes make a company different from its competition, we can say that all this set with the brand image is its DNA, and the brand has to be used as an instrument in the management of the company to make it more competitive.
Entering the world of packaging is to understand that the purchase decisions of our customers, like the rest of consumers, are made by feelings and not so much by reason. We have to reach the consumer and the distributor with emotions, and this we have to learn.

That is why it is important to have the help of innovation and packaging professionals, such as Ipacklab, who will allow us to take our brand to another level.
We know that marketing is not easy and problems related to a lack of training and resources are common, especially in small and medium-sized companies.
Incoterms, labeling, commercial invoices and other requirements for marketing oil are part of the content of the export and commercialization course that you have (only available in spanish at the moment) on the online campus, and where we intend to help you on your way to the commercialization of olive oil.

However, and finally, we do want to give you some basic points that you have to take into account and that can serve as a guide.
Assess the Export of the Olive Oil that you sell.

The world is a great market. Do not stop evaluating different country alternatives, especially thinking about the possible crises that may occur at national levels. The internationalization processes have been the exit of many companies in times of crisis.



Keep an eye on innovation and differentiation

Whether it is as new products or as if it is the traditional product that we have always had, what we cannot ignore is that the competition in olive oil is high and that we have to help the consumer, distributor or importer to decide that our product is different and that is why you have to buy it. We have to differentiate our product to obtain purchase arguments from our clients.

Have an open mind

The customer is the one who buys and who we have to listen to first. Whether we produce an olive oil or if we decide to market a brand, we have to see that it responds to a demand from potential customers. We have to study and analyze the market we are targeting well, we must know how to listen to our customers and the demand in general. We must go about imposing our criteria and opening our minds by listening to our potential clients.



Be careful with the Collections.

You have to charge before exporting. Even if it is an advance, a signal, we have to make sure that the payment is going to be made. We must flee from orders in which they assure us the payment but after receiving it. Whatever the country and culture in question, do not start any commercial relationship without a signal; we must avoid any shipment. Having collaborating entities at the destination is interesting and on more than one occasion they will help us to know who our potential buyer is and the payment guarantees available to them.

Monitoring the distribution of your olive oil

You have to have a long-term view. Marketing does not end with the first sale, on the contrary, we must always keep in mind that we want a second and subsequent sales with the same client. Monitoring the distribution of our olive oil will help us not to finalize one operation with the sale, collection and export or commercialization. In olive oil, sometimes the first sale can be relatively simple, and the difficulties are in getting second and subsequent sales.

Be minimally prepared before starting to market your olive oil

Knowing the market in which we want to develop, knowing its import and export mechanisms, is something generic and seems very obvious. Having a website and dossiers where our pricing policy is easily reflected is equally obvious but is often neglected.

It is better to have a website in English only, before having it in 5 languages but outdated or with both computer and handling errors. Having an intuitive, fast and well positioned website, a good seo, is an essential requirement to achieve success in your marketing.
The most important thing is to overcome our fear of exporting, turn threats into opportunities, be the head of innovation and win over the customer by turning them into a fan.
We hope to accompany you and help you in your process of marketing with olive oil, we hope to give you the requirements to market successfully and we hope above all to be with you in all your training related to Olive Oil.