Listen to this article
Marketing olive oil is one of the great challenges of the olive sector and that is that we take care and worry about producing quality, and sometimes we are not aware that, perhaps, it is harder, more difficult and expensive to later market it.
When we talk about marketing in olive oil, we cannot lose sight of the fact that olive oil production, despite technological advances, is highly dependent on the weather, which causes a marked alternation of production or crop production between seasons, which generates high price volatility, with a clear impact on the economic viability of olive farms and the survival of producing regions.

This variability has been registered with special incidence in the last decade and it is foreseeable that it will continue, or even worsen, given that estimates of the effects of climate change in producing countries point to a greater presence of extreme meteorological phenomena in the future.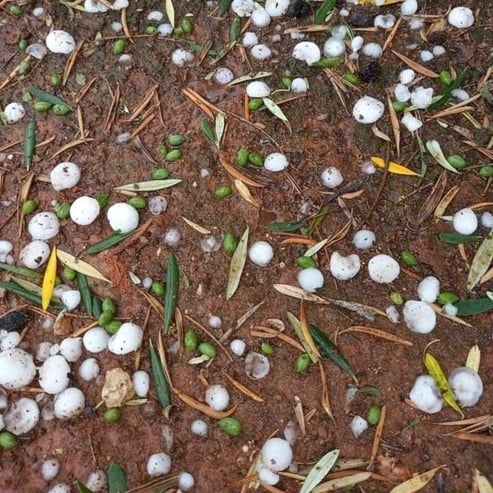 Olives fallen by hail. ESAO Image Bank
Additionally, in recent years the olive grove acreage has increased significantly, with a strong presence of intensive plantations whose full entry into production makes an increase in average production levels foreseeable, in a context of stable world demand.

This information allows us to bear in mind that it is a product where supply and demand, together with price volatility, must be kept in mind. However, we know that it is one of the healthiest fats in the world and we know that the consumer is becoming more and more aware.

At ESAO we want to help you market olive oil, and for this we will specify some steps that we consider to be of special interest.
Market study
The first step to approach the commercialization of our olive oil is to know who we want to sell to. This step is the beginning and perhaps the most important of the points that we have to work on.

We have to select the market to which we are going to sell and see what characteristics it has, know who our client is going to be and how we can help them. To do this, we will carry out a market study whether it is a locality, a geographical area or a particular country.

When it comes to undertaking a market study for a specific country, most countries have government organizations where market studies from different countries are already available.

However, it is important that any market study has developed the following points:
Study of the supply available in olive oil.
Analysis of the competition in olive oil.
Situation of the demand for olive oil.
Pricing policy: distinguish between import prices and sales to the consumer.
See which are the means of payment and the currency used.
Analyze what is the perception of the origin of the olive oil that you are going to sell (for example, if it is Spanish oil, see what is the perception of Spanish products in the country of the study).
See which are the distribution channels for olive oil.
Analyze access to the market, the possible entry barriers that you will encounter, such as: tariffs, news in the Free Trade Agreement, specific legislation, labeling, etc.
The prospects of the sector in that particular country to which it is directed are also important.
Analyze and detect which may be the opportunities offered by the specific country.
All the points mentioned above are also valid if we want to start marketing locally.
Bureaucracy
To sell extra virgin olive oil it is necessary to create a well-defined corporate structure and therefore the opening of the CIF must be foreseen. Having a CIF is therefore the first step to start selling our own extra virgin olive oil, both in your company and in stores.

Depending on the country in question, the possible specifications must be taken into account. For example, in the case of Spain with the VAT number you can only sell oil that mainly contains your own olives. If olives not directly produced are also used, it may be necessary to open a second VAT number for commercial purposes. In fact, when 49% of the oil not produced directly by the company is exceeded, this additional step is essential so as not to be penalized. After opening your VAT number, you can start selling your extra virgin olive oil in shops, restaurants, etc.
There is a detail in most producing countries, which seems minor but is important: the capacity of the containers. If the oil is sold to the final consumer, the product must be presented in containers with a maximum capacity of 5 liters. If, on the contrary, you sell your oil to a restaurant, for example, the maximum capacity of the container is 25 liters.

What is common in all countries is that authorizations are required to start selling virgin olive oil and therefore you cannot avoid going through the bureaucracy that in each country, as we know, is never so simple and fast. Arm yourself with a lot of patience and find out well about everything you need to present in the competent offices so as not to waste time.
Corporate image
Once we have seen and carried out our market study and we know, depending on the country, the regulations applicable to the marketing of your olive oil, and after complying with the bureaucracy, you must create a corporate image and know how you want to be known.

The corporate image or brand image is the set of beliefs, attitudes and perceptions that the public have about a company or brand. That is, it is the set of signals that you emit through the colors of your company, logos, images, etc.

It is crucial to know what the corporate image you want of your company is going to be. Depending on the client or consumer you are targeting, you will have to have a certain image according to their ideals, cultures, preferences and customs. All this information will be given to you by the market study that you have carried out.
It is important to present a brand image according to the consumer you are going to address and, above all, take into account that the product you are going to market or export is olive oil. This is a grease, and as such it is necessary to have special sensitivity not to leave a mark on the container, that the ink is not disfigured, that the closure is totally secure, among other things.

One of the places where the corporate image has to be your brand's website. Today's traditional business cards have become today's Websites.

Imagine that you have decided to export olive oil to the United States, you have done your market study, you have analyzed it and you have decided to move on, then you have complied with all the country's regulations and now you realize that you do not have a perfectly translated website. to English.

The main objective of your brand image has to be that it speaks well of you and that it invites potential clients to know everything that your company is capable of offering.

The corporate image will help us to retain customers through the trust that we show, and all this is provided by the corporate image, among other things. In fact, in the export and commercialization course, an entire chapter is devoted to packaging, and the speaker reveals the key points to help us in the commercialization of olive oil, differentiating them from the rest.
Training and operability
In order to successfully carry out the previous steps, training in olive oil marketing will be essential. Knowing what the situation is and the olive oil panorama will help us to make informed decisions. When it comes to marketing and exporting olive oil, we cannot ignore its particularities as a product.
ESAO OOV Commercialization and Export Course. ESAO Image Bank
Once we have the specific training in olive oil marketing, and have completed the previous steps, thinking about marketing actions aimed at creating a strategy that helps to make yourself known and bring potential customers closer to your brand will be the last step before starting the sale. You have to put together a good marketing job, to be able to launch all the previous work that you have done and that has the maximum possible scope within your objectives.

For the commercialization of olive oil, the work in diffusion and the investment in marketing is very important. You have to think that in many countries or geographical areas, the use of olive oil is not common and we have to create culture.

As marketing actions, we can have the following examples:
Social media
If your olive oil is a quality product that differs from the others, you can create a communication focused on the knowledge of your specificity. What is important is that you know which are the social networks most used by your potential clients. Sometimes we make use of a certain social network that, later we see that it is not the most used by our potential clients.
Word-of-mouth (WOM)
It is perhaps the most important marketing action of all. Getting a customer loyalty and speaking well of you will bring you closer to more customers. Word of mouth is the tool that can have the most potential in an olive oil company. Keep in mind that nowadays the assessment that the consumer makes of a product is taken into account by the consumer community and they give it special importance when deciding on a purchase.
Oleoturism
Tourist itineraries and experiences related to the world of extra virgin olive oil can make your company known. Once you get groups interested in oil tourism, you will see that there will be interesting sales without the additional costs of distribution. It is a way to publicize your brand at the same time that you will sell oil. For oleotourism it is not necessary to have your own oil mill or olive grove. There are advantageous oleotourism experiences that do not have the traditional oil mill.
ESAO students visiting the olive grove. ESAO Image Bank
Work in Quality. Awards
Entering a market is complex, you need differentiating elements and you need to give buyers reasons why they should buy your olive oil and not your neighbor's. Working on quality will always be an important differentiating element that helps us to be able to compare ourselves with other virgin olive oils.

One way to facilitate demonstrating the quality of our oil is through competitions, the more solid the better. It is important that the contest in turn disseminate the results sufficiently, so that in this way, when I obtain my award, I know that the consumer will know.
Having a seal on my packaging that endorses the quality of my olive oil will help the consumer choose my brand of oil and not another that does not have it.
Fairs and Events
Attending fairs and events will give you a series of opportunities that will materialize over time. The fairs and events will help us to create or expand our client portfolio while allowing us to know and test the current reality of the olive oil market.

At fairs and events we are with colleagues and with other companies in the same sector with whom we can compare and get to know closely. For fairs, just like when we have talked about the bureaucracy in the commercialization of virgin olive oil, it is important to know that you have to be patient.

Sometimes we will take home a multitude of cards, and there will be no return of any, however, little by little and persisting, we will finally get buyers.

Depending on which fair we decide to attend, our objective must be different. There are olive oil fairs more focused on getting to know us, others more focused on getting to know us all the news in the sector, others more specific for sale, others will be a showcase where we can make a brand and others that will be to see and take care of our customers .

The important thing is to allocate the budget that we consider appropriate and select the fairs that we consider of special interest for our model. In this way, we discard indiscriminate attendance at all the olive oil or agri-food fairs that are emerging.
Fair attendees. ESAO Image Bank
Finally, we want to leave the links related to the legislation on olive oil within the framework of the European Union.
Legislation on olive oil
The legal bases include legislation on olive oil marketing standards, characteristics of olive oils and olive-pomace oils, producer organizations, aid programs, private storage and price reporting. .
Marketing standards
EU legislation regulates the marketing standards for olive oils and olive-pomace oils.
Reglament (UE) n.º 1308/2013

on the common organization of the markets for agricultural products.

Execution Reglament(UE) n.º 29/2012

on olive oil marketing standards. This Regulation establishes, in particular, rules on the packaging and labeling of olive oil (mandatory and optional requirements).

Reglament (CEE) n.º 2568/91

on the specific characteristics applicable to each category. Verification of compliance with these characteristics must be determined by specific analytical methods. This Regulation also defines the control requirements for the control authorities of the Member States.
Organic products
Organic farming legislation regulates all areas of organic production and is based on a number of key principles, such as the prohibition of the use of GMOs and the limitation of the use of herbicides and pesticides.
Geographical i

ndications
Los productores de aceite de oliva pueden presentar una solicitud de registro, en virtud del Reglamento (UE) n.º 1151/2012 sobre los regímenes de calidad de los productos agrícolas y alimenticios, para obtener una denominación de origen protegida o una indicación geográfica protegida.
Private storage
Implementing Regulation n.º 1333/2013 establishes the notification obligations in the framework of the common organization of agricultural markets.

Delegated regulation (UE) 2016/1238 establishes common provisions for granting aid for private storage of certain agricultural products.

Due to the large amount of stocks at EU level and several successive good harvests, which caused an imbalance between supply and demand and a decrease in prices, the Commission approved a private storage aid for olive oil with the in order to stabilize the market and raise prices. The regime was applied through four bidding procedures, the first in November 2019 and the last in February 2020.
Support Programs
Delegated regulation (UE) n.º 611/2014 establishes the support programs for the olive oil and table olives sector.

Implementing regulation (UE) n.º 615/2014 establishes the implementing rules for work programs to support the olive oil and table olives sectors.